Farm sheds are available in a huge range of sizes and designs to meet the needs of any project. Large hay sheds, feedlot covers, machinery sheds, grain storage, workshops or horse arena covers we can design to suit your project.
Our designs are based on constant market Research and customer feedback. As your requirements change we are confident we will always have designs to suite your needs.

The quality speaks for itself…Our buildings are manufactured from high quality BlueScope steel 450Mpa or better, with a full manufacturers guaranteed steel frame that's assembled without rust-promoting welds and is virtually maintenance free. Saving you money and time in the long run.
The connection system gives you a level of strength and security that no other building matches. Build to withstand bad conditions, staying dry and secure, offering long term protection for your valuables.
Cyclonic hold down protection. Even non-cyclonic areas can suffer windstorms that can damage or destroy normal buildings, anticyclonic hold down system is part of the slab itself, protecting against the uplift that can damage a building. These massive steel brackets are cast directly into the slab, no other method offers you the strength and security of this lifetime, heavy duty hold down system.
Open Sided Farm Sheds
You can adjust your height to exactly the clearance you require. Up to 7 meters (23') is easily designed but we can do special designs well beyond that if required.

We can design the bay spacing to suit your requirements. Up to 8.0 meters can be achieved simply, however you can have openings of up to 12 meters ( 40'). Once we understand your personal requirements we can advise on the most economical way of achieving your needs.

The gable ends can also be opened if required.

A sample of some of the open bay range of sheds available. But you can nominate any size within our engineering envelope and we can supply within three weeks of your ordering.

Fully Enclosed Farm Buildings
When enclosing your building you can fit sliding doors in either your gable end or the side of the building. The size of your sliding doors are flexible but it is recommended that you door width is no more than 6m (20'). This is for ease of opening and for door strength. You can still achieve large openings by just running a series of doors instead. The sliding doors are supplied to you in a kit for easy onsite assembly and are supplied with your building from Australia's leading sliding door manufacturer.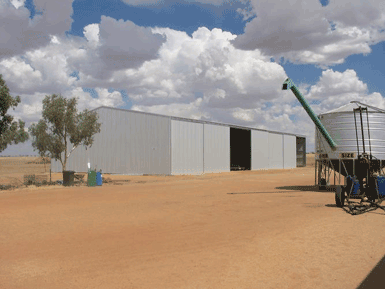 ---

---

Using rollerdoors is less popular on rural buildings due to the decrease in real clearance heights you will receive.
FARM SHED WITH WORK SHOPS & OPEN LEAN-TO


You will normally find that by extending your building width by adding a Lean-to is an economical way of creating more space for less money. Our buildings are designed to support "Lean To's" of up to 75% of your original span both sides. This can be done at time of initial purchase or as your needs change.
We have had customers save up to 30% of their building price by using this method of design. It especially saves you money in spans between 20 to 40 meters (66' to 123')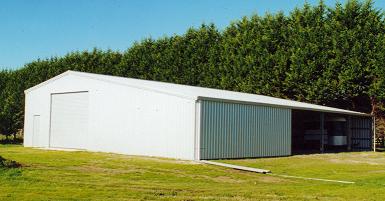 Other options in farm buildings include various roof pitches, internal walls, mezzanine floors, skylight sheets and personal doors.

Partly enclosed buildings

These buildings provide the best of both the open bay and enclosed farm shed giving you security against theft or vermin infestation. See our Lock Up Range for more information
---
Call us today on 1800 427 929 to learn more about planning your next steel building or
submit details in form below for a quick quote to get you started.